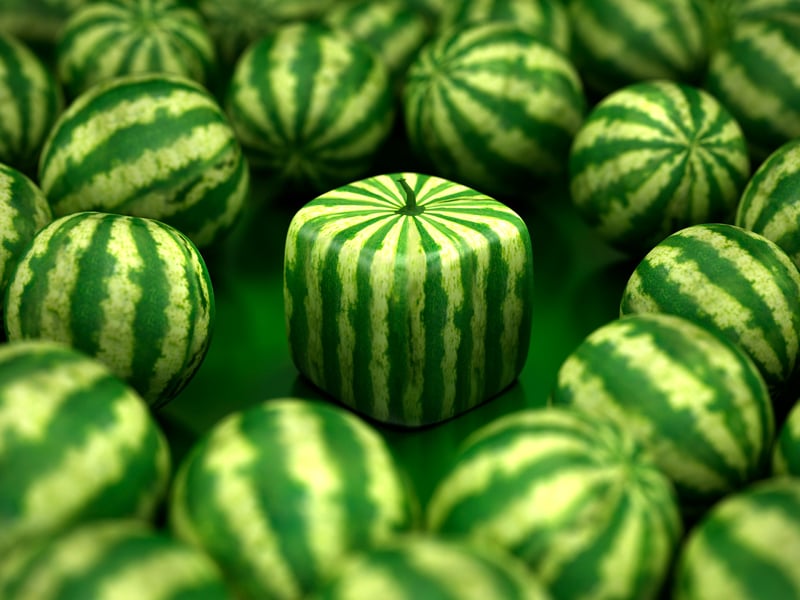 Strategic value is the value a purchaser is willing to pay for a business, over and above what an impartial business valuer might determine is 'fair market value'.
As we have discussed in our eBooks, one common method of determining a business' fair market value is to use a multiple of earnings.
Multiple of Earnings is the term for how many years or months a purchaser is prepared to wait before they recoup the value they paid the outgoing business owner, based on an assessment of business maintainable earnings (or sustainable earnings).
In Australia's small to medium-sized business market, purchasers are generally looking from one, to four and a half years, to recover the money they've invested.
So how much more than its fair market value will a purchaser pay for a business with strategic value?
The answer is largely determined by the potential purchasers' individual circumstances which impact their appetite for the opportunity, but it can also be influenced by the vendor's management decisions long before sale time.
How is strategic value created?
There are a number of factors which contribute to a business' strategic value. These include:
Competitive advantage – This is what you as a business do better than anyone else and which another business can't easily or quickly replicate.
Business characteristics – These characteristics – which include customer diversity and brand strength – are largely quantifiable and can be influenced by a business owner's management decisions and actions.
Complementarity – This is the extent to which the business' offering complements a potential purchaser's business, or their investment and strategic objectives.
'X' factor – This is the qualitative side of the equation and comes down to whether or not the business opportunity prompts a positive emotional response in a potential purchaser.
Competitive advantage
Competitive advantage is determined by the strength of the value proposition you are providing to customers i.e. are you as a business meeting hitherto unmet needs of customers and how hard is it for your competitors to quickly replicate your offering?
Business characteristics
These business characteristics can usually be counted on to lead to an enhancement or detraction from strategic value, and many of them can be influenced by the business owner, to a greater or lesser extent.
They include: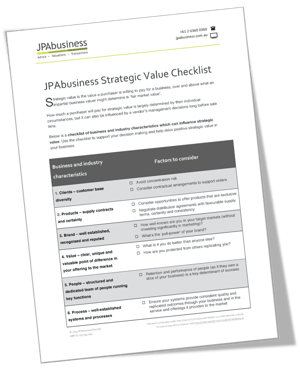 Customer base diversity

Supply contracts certainty

Brand strength

Point of difference

Team capability

Established processes

Ownership of trademarks, patents, licences etc.

Market pressures

Customer expectations

External advancements
We have created a checklist of business and industry characteristics which influence strategic value, plus some ideas to help you manage them so as to grow your business' potential strategic value.
Complementarity
Complementarity is the extent to which a business' offering complements a potential purchaser's business, or their investment and strategic objectives.
For complementarity to occur, a sale opportunity needs to offer something to a potential purchaser that they don't already have, or which will significantly strengthen their own value proposition, beyond the benefits of organic growth.
In many respects the market dictates whether there is strategic value or not, and this is definitely the case when it comes to complementarity.
Here's an example:
You are a business owner.
Over the years you have worked hard to establish and maintain great relationships with your customers.
You believe these strong customer relationships will offer strategic value to a potential purchaser, over and above fair market value.
Along comes a potential purchaser.
This potential purchaser operates in the same industry as you, in the same geographic location, selling another product to the same customers.
In this situation your 'strong customer relationships' don't necessarily complement the potential purchaser's business, instead they simply replicate it.
If, on the other hand, you also have the exclusive distribution rights for a product line the potential purchaser would love to get their hands on, you have complementarity and a case to argue for strategic value.
'X' factor
I like to describe strategic value as being the X factor associated with a business.
Think about the X Factor TV program. It features a number of different performers who can all sing, dance and so on to a high standard, but the ones with 'X' factor give more than just a great performance. Somehow they have a 'vibe' that connects with the audience.
Strategic value is like that in business.
'X' factor – it's the vibe
I'm a bit of a motorcycle tragic and a while back I was lucky enough to attend the MotoGP at Phillip Island.
While perusing the motorcycles on show I was interested to read some promotional material about Yamaha, which happened to be celebrating its 60-year anniversary.
Here's a little extract:
For 60 years, the Yamaha Motor group has created innovative high-quality and high-performance products that empower our customers by bringing greater joy to their lives. This is the essence of Kando. Kando is a Japanese word for the simultaneous feeling of deep satisfaction and intense excitement that people experience when they encounter something of exceptional value.
Kando is an emotional reaction to an objective offering.
There is no telling what will produce that feeling in some people and not others, but it is just that sort of visceral, emotional reaction that causes some people to value a business (or product) more highly than others.
Strategic value is – at least in part – an emotional value. It's not fully quantifiable.
JPAbusiness offers a range of business advisory services. If you are thinking about buying or selling a business, contact the team on 02 6360 0360 or 02 9893 1803 for a confidential, obligation-free discussion.

James Price has over 30 years' experience in providing strategic, commercial and financial advice to Australian and international business clients. James' blogs provide business advice for aspiring and current small to mid-sized business owners, operators and managers.