When selling a business, you need to provide solid, robust and transparent information to support the performance of the business if you want to attract a confident purchaser who is willing to bid up strongly.
The more clearly you can describe your value proposition and present supporting information in the business sale process, the more chance you have of driving business value. Remember, for a business person, information can reduce risk and, therefore, increase confidence.
The following infographic is a simple guide to 10 key pieces of information you need to share when selling your business.
The information should be summarised into a professional document that provides a credible commentary on the performance, track record and future prospects of the business.
Use our free IM/Business Profile Checklist for more details on this step.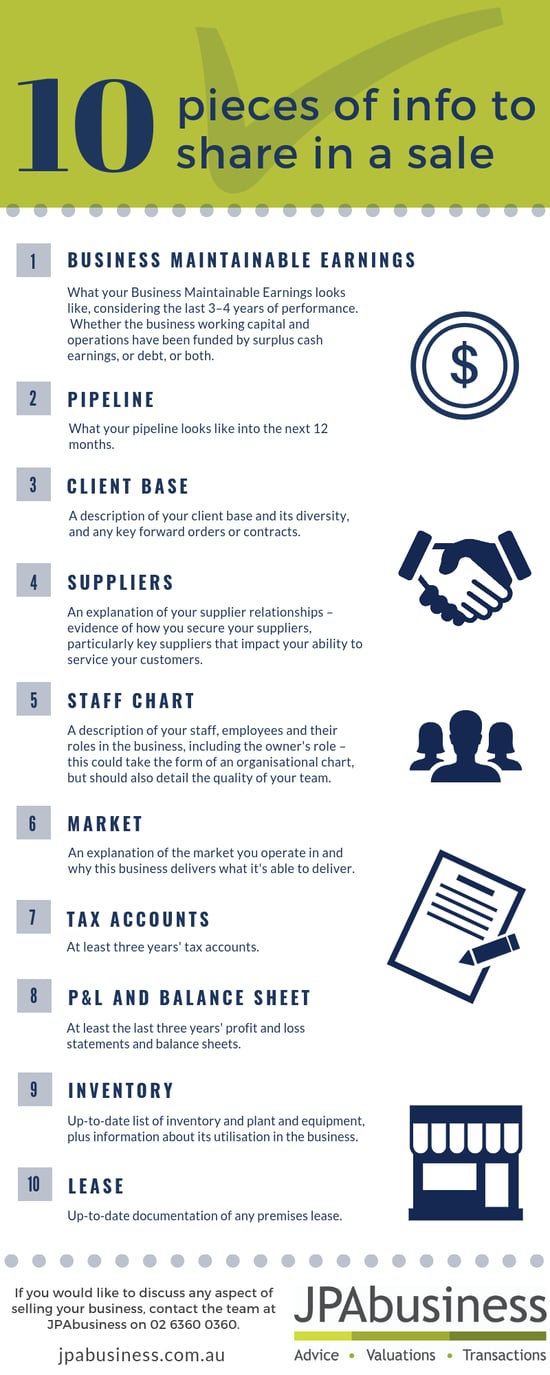 JPAbusiness offers a wide range of services for business sellers, including:
Valuations and market appraisals

Business sale preparation and marketing

Managing expression of interest process

Providing negotiation support and ongoing assistance up to sale completion.
We also have other free resources for business owners at the beginning of their sale journey, including:
For support or information about any aspect of selling a business, contact the JPAbusiness team on 02 6360 0360 or 02 9893 1803 for a confidential, obligation-free discussion.

James Price has over 30 years' experience in providing strategic, commercial and financial advice to Australian and international business clients. James' blogs provide business advice for aspiring and current small to mid-sized business owners, operators and managers.