Selling a business is a massive undertaking and not one to be entered into lightly.
We created our free Selling a Business Planning Sheet as a 'first step' resource for business owners thinking about selling.
The template contains 20 questions designed to prompt you to undertake the necessary thinking, planning and acting that will ensure you and your business are well prepared for the sale process.
Questions include: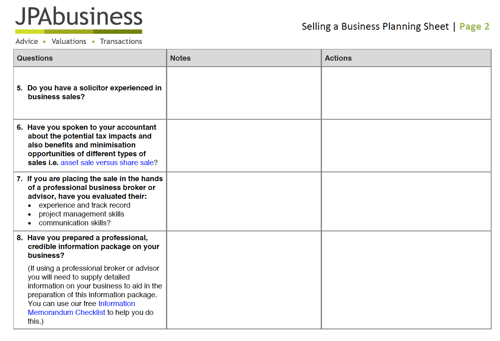 Have you discussed your objective in selling with your business partner, spouse and/or advisor?
Have you prepared a marketing plan?
Have you prepared a confidentiality agreement for interested parties to sign?
Do you have the means of sharing sensitive legal and commercial information during the detailed due diligence process?
If you are considering selling your business, download the free template and work through the questions to help place your business in the best position for a successful sale.
Help is at hand
We have a number of other free resources to help business sellers:
If you would like assistance or advice regarding selling your business, contact the team at JPAbusiness on 02 6360 0360 (Orange) or 02 9893 1803 (Parramatta) for a confidential, initial discussion.

James Price has over 30 years' experience in providing strategic, commercial and financial advice to Australian and international business clients. James' blogs provide business advice for aspiring and current small to mid-sized business owners, operators and managers.