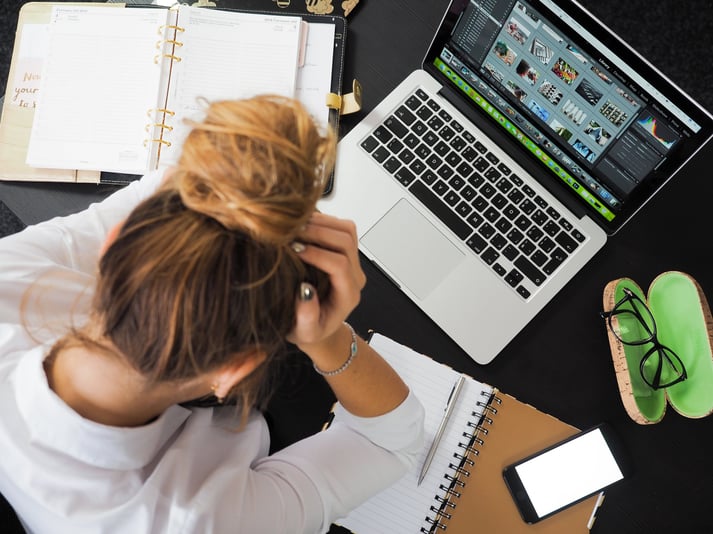 As we head into an uncertain FY20/21 business owners and managers may be tempted to think now is not the time to prioritise staff professional development needs. I believe the opposite is true.
One of the key elements of your business proposition – large or small – is your team, and they're going through the same anxiety you are. The COVID-19 crisis is impacting their professional lives, personal lives, physical and mental wellbeing, just as it is yours.
Even though you may be struggling simply to pay wages, the last thing you want is to lose good people, whether you lose them physically, or in the sense that they become disengaged as a result of their anxiety about the current environment.
Look to the future
Sometimes, when things are difficult, the best antidote is to look to the future; have a clear understanding of where we are now, but acknowledge we will get through this crisis and start planning for the other side.
With this in mind, and in the context of the end of FY19/20, some smart business owners are having discussions with their teams, reviewing past performance, getting feedback on the business, and putting together training and professional development plans to prepare for the longer term.
I strongly suggest other business owners and managers consider following suit.
Rewards from a modest investment
When a business is prepared to invest in their team's professional development it gives the staff members confidence they are seen as part of the business' long-term future, and that can be very engaging for a team where there are individual uncertainties.
And, of course, it also overcomes gaps in capabilities and competencies among your team. As we've discussed in the past, having competent, confident staff who feel fulfilled and motivated by their work is a win-win that provides benefits for both the employer and employee.
In terms of investment size, it doesn't have to be large: it could be in the order of a few hundred dollars, up to a couple of thousand, or maybe even $5000 on an individual, in the next 12 months.
It may feel like a luxury at this time, but an engaged team is critical to the health of your business and, in working with clients, we increasingly find that staff training and PD is key to ensuring that strong engagement continues.
Download our free Staff Training and Professional Development plan templates
You can download our free JPAbusiness Staff Training Plan and Professional Development Plan templates to get started.
Below are some example plans we have filled out to give you an idea of how the templates can be used in your business (just click on the images to view the full-sized documents).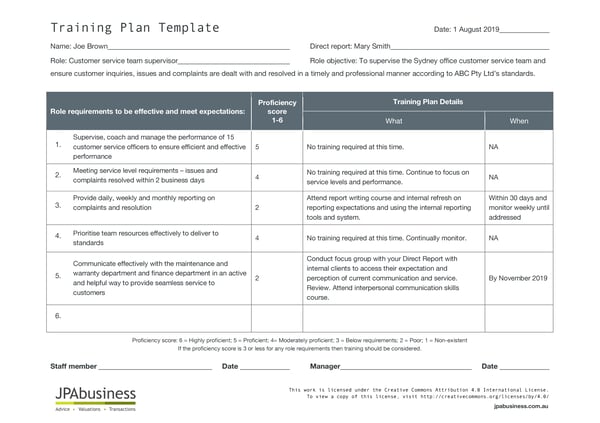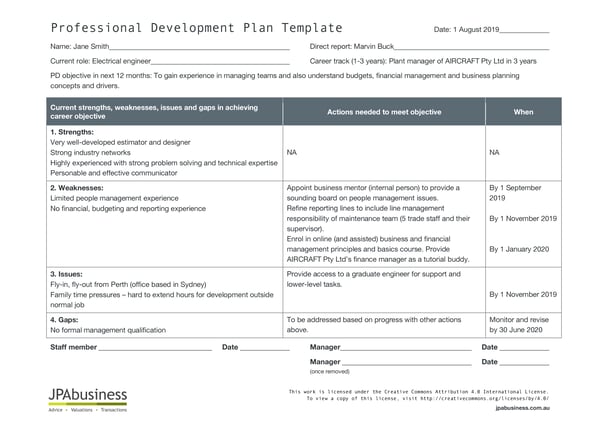 I find staff training and development needs are best identified through a formal performance management and evaluation process.
I recommend you sit down with staff members once every 12 months, as part of their annual performance review process, and develop a plan jointly, with each individual. From here, a quarterly or half-yearly catch-up to discuss progress is also often useful.
If you would like to discuss implementing a staff training and professional development plan for your business, contact the team at JPAbusiness on 02 6360 0360 or 02 9893 1803 for a confidential, obligation-free discussion.