This week we've created a two-part video series offering advice on how to communicate with your bank, financier or investors, and what pieces of information to share, if you're looking to secure funding and ongoing support in the current environment.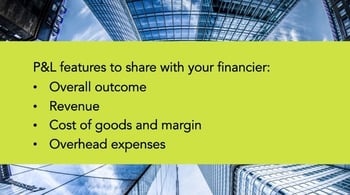 In last week's video I mentioned that smart business owners are using this time to ask tough questions, including: "What is the best balance sheet and funding structure for my business, going forward?"
As I said then, the smart businesses – even if their balance sheets are quite strong and they have funding lines – are talking openly to their financiers, sharing re-forecasts and securing extra funding lines, just in case things become more difficult over the next 6–12 months.
Part 1 of the new video series looks at key Profit and Loss information you should share, while Part 2 – which we'll release next week – will discuss the most important Working Capital items your financier needs to know about to assess your business position.
If you would like advice or assistance in developing a business and financial forecast to share with your financier, please contact the JPAbusiness team on 02 6360 0360 or 02 9893 1803, for a confidential, obligation-free discussion.

James Price has over 30 years' experience in providing strategic, commercial and financial advice to Australian and international business clients. James' blogs provide business advice for aspiring and current small to mid-sized business owners, operators and managers.