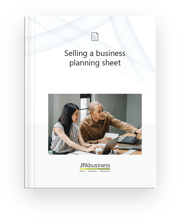 With the new year upon us, we thought the time was right to publish our new Selling a Business Planning Sheet.
Business owners often use time off during the holiday period to reflect on their business' performance and make decisions for the year ahead – decisions which may involve exit and succession plans.
If you're thinking of selling your business, the Selling a Business Planning Sheet can help place your business in the best position for a successful sale.
The template contains 20 questions designed to prompt you to undertake the necessary thinking, planning and acting that will ensure you and your business are well prepared for the sale process.

If you would like assistance or advice regarding selling your business, contact the business advisory team at JPAbusiness on 02 6360 0360 for a confidential, initial discussion.

James Price has over 30 years' experience in providing strategic, commercial and financial advice to Australian and international business clients. James' blogs provide business advice for aspiring and current small to mid-sized business owners, operators and managers.