If you're a business owner considering taking on an investing party or shareholder, some form of written shareholders' or partners' agreement is vital.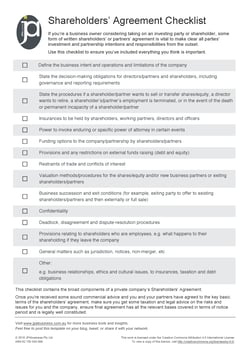 Use the agreement to make clear all parties' investment and partnership intentions and responsibilities from the outset.
Remember, this is your business, so you can cover whatever you think important, from business relationships, ethics and cultural issues, to insurances, taxation and debt obligations; it's your blank canvas.
(And if you're already in a partnership or shareholding entity and don't have a shareholders' agreement, it's not too late to put one in place.)
Our free checklist contains the broad components of a private company's Shareholders' Agreement.
Once you're received some sound commercial advice, and you and your partners have agreed to the key basic terms of the shareholders' agreement, make sure you get some taxation and legal advice on the risks and issues for you and the company.
It's also important to ensure final agreement has all the relevant bases covered in terms of notice period, and is legally well constituted.
If you would like support or advice regarding creating a Shareholders' Agreement, please contact the business advisory team at JPAbusiness on 02 6360 0360 for a confidential, no-obligation discussion.

James Price has over 30 years' experience in providing strategic, commercial and financial advice to Australian and international business clients. James' blogs provide business advice for aspiring and current small to mid-sized business owners, operators and managers.