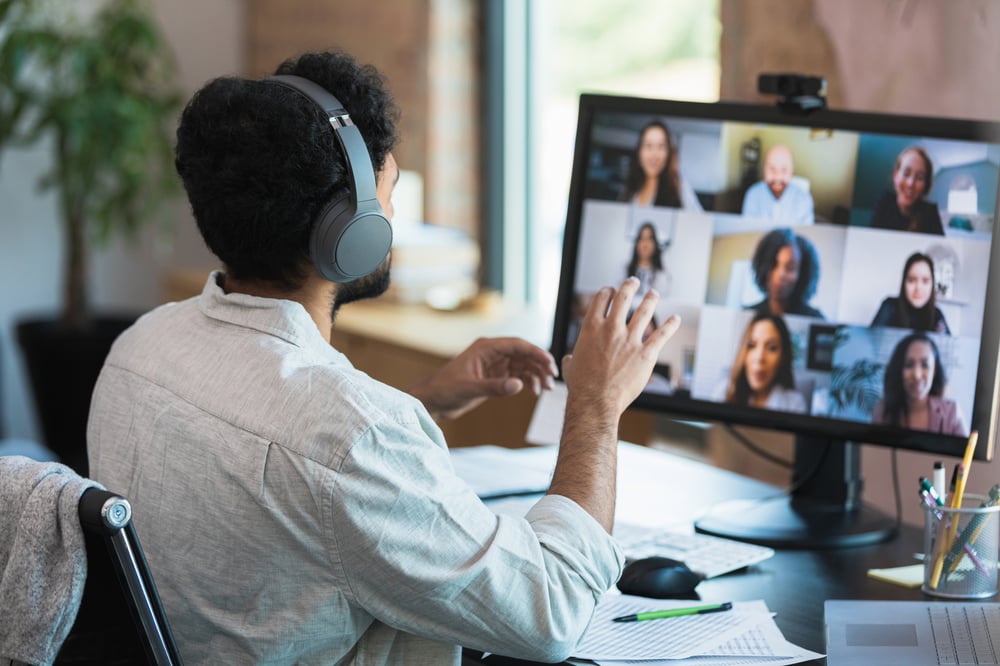 Many sales-focused businesses share the misconception that a face-to-face visit is always worth more than an online interaction.
This may have been the case in the past but it's not today, and not just because of the post-pandemic world. Business was well on its way to online engagement before COVID-19. Zoom, for example, had 10 million daily meeting participants in December 2019. Yes, that surged to 300 million in April 2020 because of lockdowns, but 10 million is hardly inconsequential.
Customers today value relevant engagement and interaction that is aligned with their needs. Many don't care whether it is online or in person and, in fact, often prefer the convenience of an online interaction.
Case study
Here's a real-life example from a company within our network:
This national sales and distribution business has an annual turnover of $60 million, with about 35 sales representatives spread across Australia's major states.
It distributes a range of industrial products and had grown quite a bit over several years, because they do sales and distribution well.
Each salesperson had a portfolio of existing customers and targets requiring them to prospect new customers.
They would create a prospect list, call up new prospects, or call existing customers with a new offering, set appointment times, and drive out to the customers' premises to meet.
New strategy
When COVID-19 hit, the firm's sales strategy had to change.
Traditionally, the sales team had spent four days a week on the road and one in the office. This was reversed.
The new strategy was:
Day 1 and 2 in office – video call and phone prospects and existing customers and tease them with potential new product offers and broader offers.
Day 3 in office – research, plan and develop key offerings aligned to target prospects.
Day 4 in office – conduct 30-minute webinars. Invite existing and new customers to participate in webinars promoting new product offerings that had already been discussed with them one-on-one.
Day 5 on the road – based on the success of the other engagements, and in response to prospects who wanted to know more, schedule and conduct face-to-face meetings.
The results
The technology options around interacting with customers and providing efficiency for the sales team demonstrated huge financial benefits.
Sales grew between 20% and 30% a year and are still holding at that level of growth.
Travel costs plummeted about 80%, from $650,000 for the group to $80,000 per year.
The results showed the salespeople did not need to be out on the road and the number of prospects they could deal with increased several-fold, because they were so much more efficient. They could qualify prospects without leaving the office.
There were some retraining and retooling costs for the salesforce, and I believe about 10–15% of their people didn't make it, as they struggled with the new environment. However, these folk weren't lost to the organisation, as they were just more appropriately suited to different roles within the company.
It almost sounds too good to be true, but it actually happened!
What it means for business value
Winning new sales is about driving profitable revenue.
In the case of the business above, the increased sales and reduced travel costs meant $1 of revenue was being generated for 40c of cost, rather than 60c. In basic terms their gross margin on $1 of revenue rose from 40c to 60c.
That goes straight to the bottom-line performance of the business in terms of its future maintainable earnings, a key consideration when valuing a business.
Physical meetings still have a role
The older generation, in particular – but not only – are used to the personal touch, so I'm not arguing it's not important. We do value it in terms of business value, particularly if it's shown to deliver results in terms of adding value to the bottom line.
For most people, though, it's not the nature of the interaction – physical or remote – but the value of the interaction that matters. Customers often value more convenient engagement in their own time, and video calls, in particular, provide a form of face-to-face interaction.
And once you've established the face-to-face connection, and customers know what you look like and have a feeling for your presence and communication style, then a follow-up virtual contact can be received reasonably well.
JPAbusiness offers a range of business valuation and advisory services. If you would like to discuss strategies to help you grow the value of your business, contact the team on 02 6360 0360 or 02 9893 1803 for a confidential, obligation-free discussion.