When working with our business buying clients, one of the first things I tell them is that price should not be their primary concern.
Of course it's important – there's no point enquiring about a business worth $5 million if you only have $500,000 to invest.
However, as the infographic below illustrates, there are several questions you need to ask yourself before you get too far into the buying process.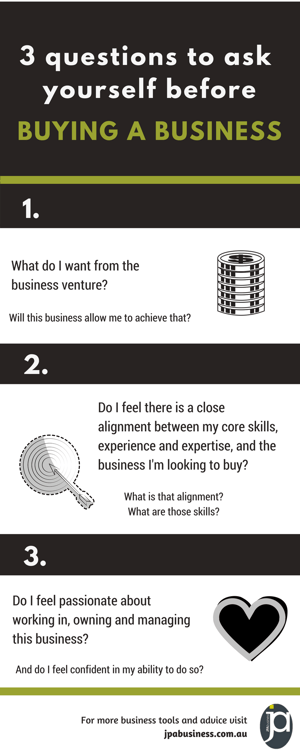 The 3 questions in this infographic are what I refer to as the "acid test questions" – ignore them at your peril!
They may not be the sort of questions that regularly come up when discussing business opportunities with financiers or accountants, but they are critical.
What happens when the answer is 'no'
Too often I see the aftermath of people who have gone into businesses not really having clear answers to those "acid test questions".
Usually, one of two things happen:
six to 12 months down the track they have an 'oh no' moment and think 'why am I here', 'why am I doing this', 'this is not what I expected', 'I don't feel comfortable with this'; or
they move into the business and suddenly it doesn't perform as it did for the last owner, and then they're starting from behind.
Passion and skill critical
So, first up, you must have passion for the business opportunity you're considering and you must have an alignment of skills and capability.
If you can't answer a full and wholehearted 'yes' to those questions, you should seriously question why you're spending your time assessing this business opportunity.

If you would like support or advice regarding a business purchase opportunity, contact the business advisory team at JPAbusiness on 02 6360 0360 for a confidential, initial discussion.

James Price has over 30 years' experience in providing strategic, commercial and financial advice to Australian and international business clients. James' blogs provide business advice for aspiring and current small to mid-sized business owners, operators and managers.