Buying a business is a major investment and it can also be a very time-consuming activity.
In this video James explains how the Buying a Business Planning Sheet can help save time and also give direction to your purchase planning.
There are plenty of good businesses out there, but the key to a successful business purchase is finding a business that will be 'good' for you.
Our Buying a Business Planning Sheet is designed to help you find a business that is the right fit for your requirements and risk profile.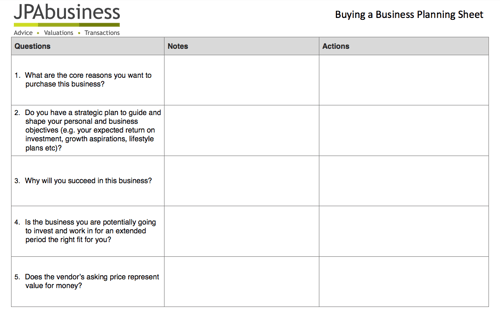 When assessing different businesses, the planning sheet prompts you to consider 15 questions, including:
Why will you succeed in this business?
How does the asking price compare to a market appraisal of recent sales and market trends?
Do you fully understand the requirements of the lease relating to your potential business purchase?
If you are considering buying a business, download the free template and work through the questions as a way of bringing some rigour and structure to your preliminary planning.
If you are thinking about buying or selling a business, contact the team at JPAbusiness on 02 6360 0360 (Orange) or 02 9893 1803 (Parramatta) for a confidential, initial discussion.

James Price has over 30 years' experience in providing strategic, commercial and financial advice to Australian and international business clients. James' blogs provide business advice for aspiring and current small to mid-sized business owners, operators and managers.