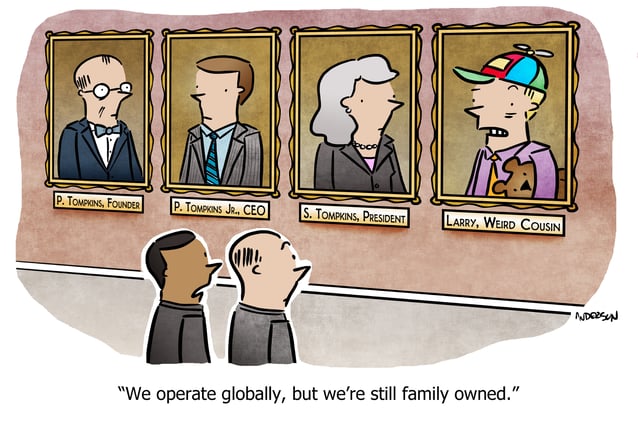 Family business may bring to mind small, 'mum and dad' firms, but in reality a family business can be as large or small as any other business.
Generally a family business is any enterprise where the founder, their spouse and/or descendants own at least half the equity in the business and play a significant role in the senior management team.
Using these parameters, Ikea, Walmart and News Corp are family businesses!
In his last blog James discussed the 28th Pan Pacific Congress of Real Estate Appraisers, Valuers and Counsellors, which he and I recently attended in Japan.
James presented our research paper, Family Business Dynamics and the Significant Impacts on Business and Related Asset Valuations.
Over the coming weeks I will be exploring the key themes of our paper through a series of blogs and some great cartoons created for our presentation by the very talented Mark Anderson from Andertoons.
JPAbusiness services a wide range of family businesses in Australia and overseas, providing support in areas such as mergers and acquisitions, valuations, transactions, due diligence and general business advice.
If you are a family business owner looking for advice or support, contact the business advisory team at JPAbusiness for a confidential, no-obligation discussion and keep an eye out for our upcoming blogs.

James Price has over 30 years' experience in providing strategic, commercial and financial advice to Australian and international business clients. James' blogs provide business advice for aspiring and current small to mid-sized business owners, operators and managers.