US-based sales guru Ian Altman is a multi-bestselling author and strategic advisor with his finger on the pulse of international business trends.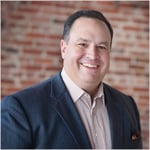 Ian is also a prolific podcaster and blogger, and his annual business trend forecasts make for fascinating reading.
He basically tells us what we can expect to see from the most creative and innovative businesses in the year ahead, which is also what – if we're smart – we should be embracing in our own businesses.
Over several blogs we're going to take a look at some of the trends Ian forecast for 2016, particularly those with resonance for JPAbusiness clients. You can look at Ian's blogs as 'forecasts', or treat them as savvy business advice.
Ian's forecasts were published at www.forbes.com and you can read his full blog post here. JPAbusiness would like to thank Ian for allowing us to share his fascinating insights.
Ian Altman forecast: Smart businesses will shift from complaining about to embracing Millennials
Comments by Ian Altman
The largest group of individuals, according to the [US] Census Bureau, is people in their 20's (80 million).
This group, often categorized as Millennials, now represents the largest customer and employee segment. They are also soon to be the largest business owner segment. From 1947 to 2010, Baby Boomers represented the largest segment of the population.
Brad Szollose, author of Liquid Leadership and an expert on generational leadership development says: "Millennials want to work for companies they can be proud of, and buy products from companies that give a damn about the things that matter most to them."
Szollose adds: "The reason companies must start embracing Millennials instead of rejecting them is simple; Boomers will be forced to retire soon. This leadership exodus will leave a leadership gap like we've never seen before.
"Since Generation X is much smaller demographically than Millennials, who do you think will be the dominant force competing for those positions? Millennials."
If you are looking to hire Millennials, you might need to change your approach.
Kim Cole, co-founder of TheSalesZone.com, has a great track record of finding extraordinary sales and executive talent.
According to Kim: "Millennials need to see a clear vision of their growth and future role in the organization. They might have aspirations that go beyond their current skills. If you share how you help your employees develop skills to advance in their careers, you might attract quality talent – and they will often help you attract other like-minded individuals.
For a great interview question for Millennials, Cole suggests asking: "What types of challenges do you see yourself tackling and how do you envision making an impact five years from now?"
---
The JPAbusiness view:
Comments by James Price

It's not easy to put together a team of good people. What's even harder is engendering the right balance of direction, vision, delivery/achievement and collaborative culture to sustain and retain that winning team.
Our business advisory clients cite this as one of the largest of all business challenges. I believe the so-called Millennials present great opportunities and challenges for business:
Opportunity – their idealistic and forward-looking mentality has the potential to drive ingenuity and innovation in business to new levels;

Challenge – as the business leaders of tomorrow, how can they harness Gen X's and others to help them deliver and make sustainable changes?
Enough postulating, what do the JPAbusiness Millennials have to say:
Louise Carroll – Business Analyst:
Millennials have grown up in a time of rapidly changing technology. When faced with a business problem we often see these technologies as a way of exploring and solving these problems.
It may be challenging to communicate the advantages of certain technologies to address business problems with individuals who haven't grown up with the technology. As with most circumstances where communication is challenging, this can lead to frustration and misunderstanding.
There is nothing quite like the feeling of submitting work to your boss only to have it returned with numerous words circled in red. A simple piece that discusses 'memes', 'snapping', 'shazam' and 'vlogs' becomes a mass of red pen and question marks.
When these situations arise it presents a valuable opportunity for business leaders to learn from Millennials about changes to the way in which their business can interact with and reach potential customers.
I believe both Millennials and their business leaders need to invest time and patience into enhancing their communication around the use of technology. This investment could soon pay off in the form of enhanced technology-based measures to address common business problems.
Phillip James – Business Analyst:
Understanding and acceptance of technology is definitely what separates us the most.
The Gen X's grew up reading books and playing outside, whereas we grew up playing video games and getting our newsfeed from an iPhone. Millennials actively live in a digital world.
I haven't just noticed this within the workplace, but also working with clients and other people. For example, something as simple as using an Office-based program poses a challenge to a lot of Gen X's. We learnt on these programs in school so they have become second nature, whereas Mum and Dad wrote everything down on paper.
I think we have a lot to learn from each other. Older generations have more experience and a solid set of leadership skills because they've been in business longer and have built solid face-to-face relationships. We are more innovative and open to trying out new and creative ideas.
By bridging this gap and learning from each other, a business, organisation or individual can put themselves ahead of time.


James Price has over 30 years' experience in providing strategic, commercial and financial advice to Australian and international business clients. James' blogs provide business advice for aspiring and current small to mid-sized business owners, operators and managers.